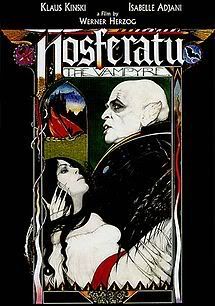 Once again, I had to turn to trusty
Wikipedia
to refresh my memory of
Nosferatu
. I'm talking about the 1979 film, which, despite reading synopses at Wikipedia and elsewhere, I just do not remember that much about. Like most of the pre-80s horror films, my viewing was done as a youngster. What
does
stand out clearly after all these years is how monstrous Count Dracula was in this movie. This marked the first time I had seen Dracula not as a handsome and dapper man, but a horrifying creature. This could also have been the first vampire movie I'd seen that wasn't from the Universal or Hammer films, and it was also scarier....probably due to Dracula's appearance.
For a long time, I wasn't aware that this movie was based on another one, the 1922 German silent film of the same name. But I'd really like to see that one someday, because in my adult years I became quite fond of the silent film in general. I have seen two silent horror films to date,and both were incredibly macabre and scary. I keep meaning to hunt the original
Nosferatu
down, but never get around to it.
I also want to get my hands on a copy of the 1998 Wayne Keeley version simply because it features David Carradine, of all people, and was scored by Type O Negative.
Image source: Wikipedia