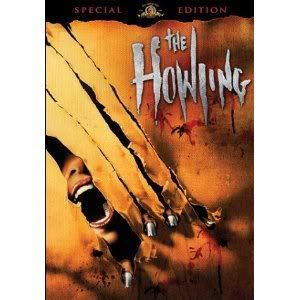 This is another film from the 80s.
The Howling
doesn't have a memorable soundtrack (but it's third sequel has some pretty good songs!), and there probably isn't anyone you've ever heard of in it except for Dee Wallace (a.k.a. Dee Wallace Stone) - the mother in Cujo and E.T., and she's also in a ton of other movies.
Anyway, she stars as a Los Angeles news anchor who takes sabbatical in a small rural community to recover from severe trauma and a nervous breakdown. Instead? She becomes obsessed with a howling sound she hears every night coming from the woods surrounding her new home. This makes her husband think she's lost her mind. As it turns out, their new small town is teeming with werewolves. As in,
everyone
is a werewolf.
She becomes trapped there, but is eventually rescued by her husband's best friend. She also makes her way back to her LA news job, complete with a very special surprise for the crew and her viewers.
Until this point, I had only seen the old black and white wolf man films...I think. I also had to wait on this one to become available for rent or on HBO before I could see it, but I did manage to read the book beforehand. I know I was a bit young (around 12 at the time) to be reading material dealing with some of the themes in this book/movie, but even though the book was directly copied
from
the movie, reading it made the back story so much more understandable for me.
I haven't watched this in years, but I'm thinking about Netflixing it sometime here soon for nostalgia purposes:) Horror movies are always more plentiful on tv this time of year, but this isn't one of those iconic classics that you see all that often.
Image source: Amazon.com