I'm taking a break from movies today to pay tribute to some pretty amazing "Scream Queens" we've seen over the years. So, it goes without saying that you should endeavor to watch any or all of the films that made these ladies famous.
There is actually a Wikipedia page devoted to the
Scream Queen
, with a set of criteria listed and everything. I know there are many, many, many Scream Queens, but due to time constraints I'm only listing a few that I particularly like for whatever reason. No bios or links. And here they are, in no particular order:
Elsa Lanchester (Bride of Frankenstein)
Linda Blair (The Exorcist)
Jamie Lee Curtis (Halloween)
Cassandra Peterson (Elvira, Mistress of the Dark - "Movie Macabre" hostess and tv personality. Also: made out with Jimi Hendrix AND Elvis Presley!)
Jennifer Tilly (Bride of Chucky. And probably a real-life vampire, because she NEVER ages.)
Heather Langenkamp (A Nightmare on Elm Street)
Linnea Quigley (Hollywood Chainsaw Hookers!!! And practically every horror B-movie ever made since the mid-seventies.)
Karen Black (House of 1000 Corpses is what most people probably know her from. I know her from Trilogy of Terror.)
Danielle Harris (Probably most known for Rob Zombie's Halloween reboot, but she's been in horror movies since she was a small child.)
Debbie Rochon (if you spent many a Friday night at home watching the Troma features on USA, then you're familiar with Debbie.)
Shannon Lark (writer, actress, director, film festival director, dancer, and all-around powerhouse in the genre.)
Now....on to my favorite Scream Queen of all: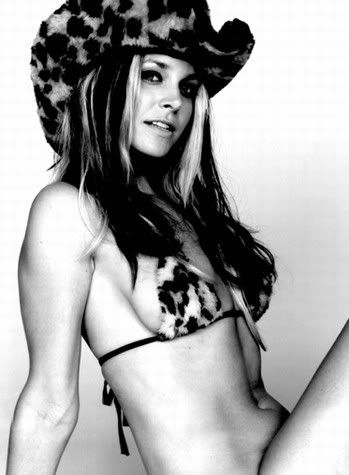 Sheri Moon Zombie.
(
House of 1000 Corpses
) Wife of Rob Zombie. Star of all Rob Zombie films, and many Rob Zombie and White Zombie music videos (as well as music videos by other artists), clothing designer, dancer, and owner of one deceptively dangerous laugh. I guess she's probably not as qualified as some, but since most of what she's done has been horror-related, she fits. Plus, she's my age and still manages to look super-hot. That's not always easy!
Image soucre: found at We ♥ It