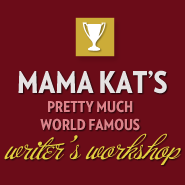 I'm now two days late with
Mama Kat's Writer's Workshop
, but I am slapping a post up anyway. Just to keep me in the routine, and hopefully, some other Saturday stragglers such as myself will play along. Of course, tomorrow will be my catch-up day, so that's when I'll be out and about, visiting everyone.
One of the themes for this week's workshop was to "...list 22 things you've never done." That could cover a LOT of ground for me, so I'm just going to narrow it down, and list 22 bands and/or artists/tours/etc that I *REALLY* wish I'd been able to see, but will not be able to due to death, breakup, or not the lineup I prefer.
OR bands I just really want to see, but haven't yet.
None of these are in any particular order, except for the first:
The Doors. Hands-down, THE band I wish I'd been able to see. Jim Morrison was truly unlike any other. I'd still be in love with him even if he were alive today, even though he's as old as my Dad! Alas, it was not meant to be, as Jim Morrison died before I was even one year old.
Jimi Hendrix
Johnny Cash
Nine Inch Nails
Kiss, during the 70s, BEFORE the makeup came off
Led Zeppelin
Pink Floyd
Woodstock, '69. OR '94.
Lollapalooza in its inaugural year.
Guns N Roses, the Appetite or Use Your Illusion years.
Jan and Dean
Waylon Jennings
The RAMONES!
Ozzy with Randy Rhoads
Van Halen before splitting with David Lee Roth
Nirvana
ELVIS PRESLEY. 'Nuff said.
And now, for bands that I've never been able to see, but really want to...and maybe will be able to one of these days:
Avenged Sevenfold
Hollywood Undead
Slipknot
Iron Maiden
Social Distortion - BUT.....I am going to see them in November. Yay for that!
Head over to Mama Kat's (link above) to link up and go blog-hopping!
Image source: Wikipedia