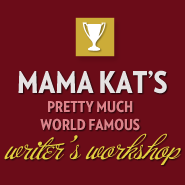 This week as part of
Mama Kat's Writer's Workshop
, one of the prompts was "Last week we wrote about what we have never done…this week write a list of 22 things you HAVE done."
So, in keeping with
my
last week's theme, where instead I posted a list of 22 bands, artists, or tours I have never seen, this week I will post 22 bands or artists that I HAVE seen:
30 Seconds To Mars
Hank III
100 Monkeys
Weezer
Blink 182
My Chemical Romance
Type O Negative
Motley Crue
North Mississippi Allstars
Willie Nelson
Ozzy Osbourne
Metallica (with Cliff)
Alice Cooper
Kiss
Bush
Satyricon
Ratt
Bon Jovi
Danzig
Cradle of Filth
Dimmu Borgir
Sevendust
This was actually a LOT easier than last week's prompt. I consider myself very lucky that there really
aren't
very many bands that I want to see that I haven't, and that I'll never be able to.
Head over to Mama Kat's for more Writer's Workshop. And while you're there? Link up your own!