I sure hope so! Due to my crazy retail schedule this time of year, I haven't had much time to blog. Therefore, there will be no
Monday's Music Moves Me
,
Wordless Wednesday
,
Wordful Wednesday
or
Mama Kat's Writer's Workshop
contributions from me this week. I encourage everyone to go around and see the other participants, though!
Here at mi Casa we celebrate Christmas, only we haven't celebrated yet because both of my sons are at their bio dad's. I was hoping to get everyone in my house around the first part of January to celebrate, but it looks like that's not going to happen, either. Therefore, that tree I kept putting off and stressing over probably isn't going to go up after all. I really should move the laundry off the dining room table so I can put our gifts there, though. I may be the most terrible matriarch ever, but believe it or not, I do have the gifties wrapped!
It's really kind of hard to get into the spirit of things when you have family members anywhere but home. I did enjoy my Christmas, though:
I had the day off work so I slept late.
I watched
Pitch Perfect
more times than was necessary. But I really enjoyed it, which surprised me because I hate
Glee
and
Smash
and stuff like that.
Anyway, it was the perfect accompaniment to my Champagne Breakfast, party of one: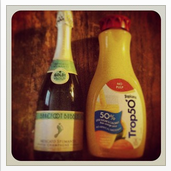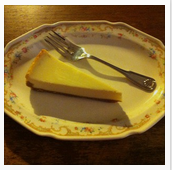 (Which, as you can see, consisted of mimosas and a slice of cheesecake on a pretty vintage platter. This one is Mildred by Mt. Clemens!)
Next week promises more of the same crazy retail schedule, and I am taking full advantage of it because hours will drastically wane between January and tax return time. It's just the nature of the business, and I am trying to get myself set up for the leaner times. Posting will be sporadic at most, but I will still make time to come by and see as many blog hop participants as possible, even if I don't get to participate.
And I will be doing my best to get a year-end review type post of some kind up at some point before 2013. It's been quite a year! Also working towards giving the blog a bit of a facelift. Not a major overhaul, but just a bit of sprucing up. We'll see.