It's the little that make me happiest.
Don't get me wrong, all the big things, like my amazing family, wonderful friends, sweet, adorable pets, a steady job, generally good health, and having all of my needs and many of my wants met makes me incredibly happy and I am thankful for each and every one of them. But I'm going to touch on the small things which never fail to make me happy. Nine small things, in fact. Here they are:
Vintage Dishes.
While it's true that I am a sucker for all things vintage, the vintage dishes are what got me started on my quest to fill my home with funky furniture and items from days gone by. This stack is just one of many different styles and patterns I have. The first few are of
Homer Laughlin's "Priscilla."
I'm not sure of the discontinue date, but the pattern debuted in 1941. I'd say these ladies are looking pretty good for their age:
Rain.
I adore thunderstorms, too, but there is just something innately soothing about a gently falling rain: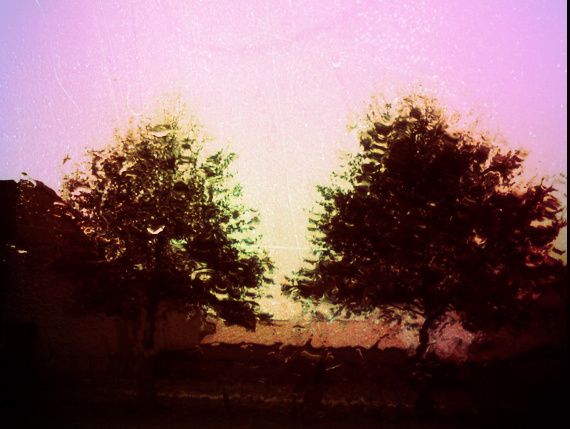 No, this isn't another Instagram test....this was actually taken with one of my pre-Blackberry phones (and not cropped very well) in front of my sons' school, with
Pixlr
's "Greg" and "Morning" filters.
Road trips.
I love them whether they're with my kids on the way to visit relatives
Or on the way to hear some amazing
Music.
(This wasn't a show I attended this year. Sadly, I do not have any pics from the ONE show I made it out to this year.)
Since I'm running out of appropriate photos, here are the rest, in list form:
TV shows.
Most people frown upon excessive tv viewing, but I happen to LOVE tv. My favorite shows? American Horror Story. The Walking Dead. Project Runway (and PR All Stars). Junk Gypsies. Revolution. Grimm. Once Upon A Time. The Vampire Dairies. Beauty and the Beast. Parenthood. The New Normal. Justified. There are probably even some I'm forgetting.
My B&N Nook.
A few years ago, I got myself a second generation Amazon Kindle and loved it so much that when it came time for me to purchase a tablet/reader, I tried three times unsuccessfully with a Kindle Fire. I finally gave up and got myself a B&N Nook color. My Mom has one, and she loved it. I don't do much on mine other than read books, shop for more books/magazines and view websites, but I sure have enjoyed having it. I know many people prefer the feel and smell of an actual book. And I love all those things, too. But I love the portability of my Nook, the fact that it can hold tons of books and take up less space than the average book, I can browse the web in bed without having to mess with my laptop, and the best part of all...the price. Due to some savvy shopping, I was able to snag my Nook Color for about $100 less than it was selling for, and also about $100 less than my Kindle Fire devices that I never could get to work.
Old houses.
I love Victorians, Craftsmans, Bungalows, Spanish-style, and Mid-Century homes. Really, all old homes, as long as there is some character going on there. Oh, and at least one covered porch - so I can sit under it and listen to the rain fall :)
Cateye glasses.
My eyesight is starting to need a bit of help, so when I have to get glasses, I am getting myself a funky pair of vintage cateye frames and having my prescription lenses put in.
The smell of fresh-cut grass.
Other than sleeping in, there is really nothing I like better than the smell of fresh cut grass while lounging outside enjoying an al fresco drink or dinner in some of my favorite vintage dishes.
What are YOUR favorite things?
This post is part of Mama Kat's Writer's Workshop. For more, go
here
.