I'm still working a good bit and still pretty rushed and tired, so this week's WWs will be
mostly
wordless.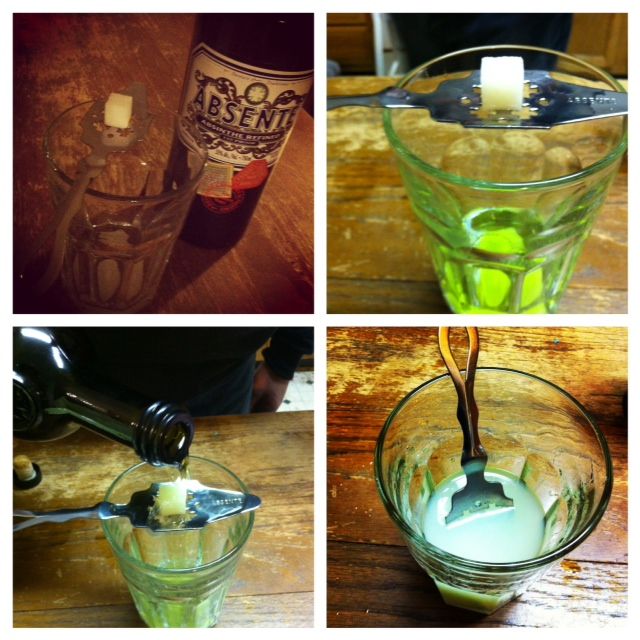 I got the opportunity to try a bit of
Absinthe
for the first time on New Year's Eve. I've been meaning to for a while now, ever since some goths I hung out with ages ago were all about it. You've already seen the top left photo if you follow me on Facebook, Instagram, Twitter, or read my
first post of the new year
. Here are a few more! It's soooooo pretty, and smelled so good! But I mainly just wanted to get a bit of a buzz without having to consume copious quantities of alcohol.
I needn't have worried; I'm so much of a lightweight I couldn't even take more than a few sips. And either that stuff is nowhere near as potent as I've been led to believe, or I just didn't drink enough. One of my Facebook friends tried some that actually came from Europe, and it did nothing for her, either. I'm inclined to agree with her when she said it's apparently not as potent as the stuff the lucky bastards of the 18th century drank!
New Year's Eve was pretty uneventful here. After a short work shift, I went and joined a gym! Can you believe it? And that evening, after my few sips of absinthe, I watched Green Day's performance on the I ♥ Radio Festival, blogged and facebooked a bit, and decided against a facelift for the blog.
Maybe one of these days!
For more Wordless Wednesday, go
here
and
here
.
For more Wordful Wednesday, go
here
.