After a way-too-short weekend visit with the family out of state this weekend, it's time to return to the grind tomorrow. And yes, it has me feeling a bit sad. It is only fitting that the theme for this week's Monday's Music Moves Me over at
X-Mas Dolly's
is "the blues. Not necessarily Blues music, but songs that make you sing the blues (sad songs)." Well....I'll play along as best I can, but I refuse to listen to any sad songs. Sorry, y'all....but I don't need any help in that department most of the time! So, today you'll be getting a fully loaded post with some blues-y rock from me :)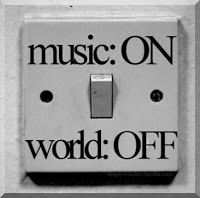 First up....Monday, let me tell you how I really feel:
Blue Monday - Fats Domino
Traveling Riverside Blues - Led Zeppelin
Hangman Jury - Aerosmith
Ride On - AC/DC
Hello Operator - The White Stripes
OMG. LOVE Jack White. LOVE.
And here's more White Stripes, because I just love Jack so so so much! This is an
AMAZING
performance that made me have to fan myself after watching. If you watch only one video I've posted, it needs to be this one! You may have heard the recorded version in a semi-recent Captain Morgan commercial.
Ball and Biscuit - The White Stripes (Live @ Vh1)
Okay, as much as I love Jack White and could post nothing but his videos (his sound is VERY bluesy, after all!), my last video for today is by a band with the sexiest lead singer
EVER.
Period. Don't even try to argue with me - I won't hear it!
Roadhouse Blues - The Doors
Music Monday:
X-Mas Dolly
Run DMT
Loving Life
My So-Called Chaos
As always, if there are more, please let me know so I can add them to my list! Happy Monday!