Time to give the government way more of our hard-earned dollars than they deserve - or, if you're lucky, get to take back a small portion of what you loaned them this year. Thankfully, I have this most unpleasant of tasks already taken care of; I usually run to H&R Block as soon as I have my W2 in hand. But for those of you who are scrambling at the last minute? Best of luck to you. Hopefully it won't be a traumatizing process!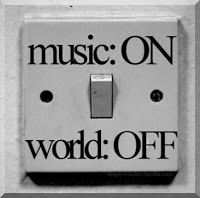 And on that note? Music. Music will make you feel better, whether you're dealing with taxes, money issues, or just Monday. Or all three.
Here are some songs about money, for your tax day listening pleasure:
Money Changes Everything - Cyndi Lauper
Because.....
doesn't it?
Sure seems to. And I know more of it (or less of it, if we're being honest) could easily change everything for the better or worse for me.
Sunspot Baby - Bob Seger and The Silver Bullet Band
Not about
money
per se, but about an ex who did Ol' Bob wrong (I'm assuming. Or this might be the work of another songwriter and/or imagination) by running off to parts unknown with his credit cards, maxing them out after leaving him with "all the bills she owed."
Head Like a Hole - Nine Inch Nails
My favorite of the bunch, because who doesn't love Nine Inch Nails? And this is the song that put Trent Reznor on the map and brought industrial music to the masses. The whole song is basically raging about money - something he undoubtedly has plenty of by now - but then or now, he has one of the sexiest voices in rock.
(Fun fact: in one of my first son's first home videos, this was playing on our tv while we were playing with the activity gym. Never say I didn't introduce my kids to some great music.)
So....let me hear your favorite songs about money!
Music Monday:
X-Mas Dolly
Run DMT
Loving Life
My So-Called Chaos
JadeLouise Designs
Do you run your own music-themed Monday hop? Leave your link in the comments, and I will link you up!
To leave a Facebook comment, scroll immediately down.
To leave a Blogger comment, click here or scroll to the bottom of the page.