Today, my friends, has been nothing short of perfection. Breezy, sunny and warm; perfect for opening all the windows and letting (with any luck!) the last of the winter blahs fly out while fresh air and a new perspective floats in. Also perfect for grabbing a favorite magazine and heading to my back porch to sip lemonade, read, and soak up a bit of sun. Here lately we've had a day or two of warm weather, then we get hit with another cold front. I was so blessed to have my day off be as beautiful as it was! And I was so ready for it, seeing as how I took on a new job at work this week and have been feeling a bit out of sorts while trying to adjust to it.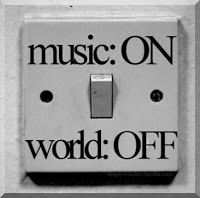 Nothing puts a psyche back to good quite like music, though, so here are a few tunes that make me happy!
First off, the theme for Monday's Music Moves Me over at
Dolly's
is
"Songs your mom/parents used to listen to when you were a child. Even if you hated them/loved them. Please share and how they made you feel."
I vividly remember my parents listening to music that I both loved and loathed, but for the sake of today's post, I'm going to just reflect on one of the bands they introduced me to that I loved. Creedence Clearwater Revival is definitely on the soundtrack of my life in its earlier years, and whenever I randomly hear anything by them it always brings a smile to my face. These are probably my favorite songs by them:
Bad Moon Rising
Midnight Special
Down on the Corner
- yes, I know everyone hears it nonstop now that it's in a Walgreen's commercial, but I still love it!
And that was the song that made my Mom and stepdad beam with pride when they were in the car headed somewhere with my sons, probably 4-6 at the time, who started singing along with it when it came on the radio. So, I loved this music enough that I introduced my own sons to it at an early age.
What music did your parents introduce you to as children? Love it? Hate it? Which of your favorite musicians have you played for your children in the hopes that they'll love it as much as you do?
Music Monday:
X-Mas Dolly
Run DMT
Loving Life
My So-Called Chaos
Please let me know if you have, or if you know of more Music Monday blog hops. Because we could all use a little more music! Oh, and before I forget - I have TWO things to share with you that I am really excited about!
My blog now has a Facebook page to like! I've had this particular blog for well over a year and held off on creating a Facebook fan page for it. But now it has one! And I would really love it if you would "like" it :)
I also now have Facebook comments integrated on here, so this will be great for keeping the conversation going in both places, and also great for a reader who only uses Facebook if there are any of those. I obviously need to do a bit of work on that code, but it's there! So to leave a blogger comment, just do as usual and scroll straight to the bottom of the page.
Have a great week!