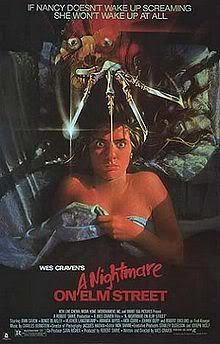 So the Scream Awards the other night were a bit underwhelming. Biggest WTF?!!? moment?
Let Me In
winning Best Horror Movie. Umm...I saw that. It wasn't scary at all! Or am I just too desensitized to all this by now?
Anyway...this horror movie series from the 80s brought out a new breed of killer - one who stalks you in your sleep! I loved
A Nightmare On Elm Street
not only for being a pretty cool slasher flick, but for all its camp, witticisms, and humor. And for giving us Johnny Depp! The sequels were all pretty decent, and the soundtrack to the third one (
Dream Warriors
) featured music by one of my then-favorites (and performers on the Monsters of Rock tour here in the U.S.), Dokken. Since that time, every
Nightmare
sequel has featured at least one metal band on its soundtrack.
You learn these things when you are a teenager and you have no social life!
Image source: Wikipedia