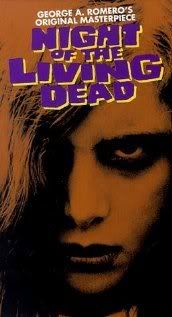 Speaking of zombies, the "Godfather Of All Zombies," George A. Romero, directed a series of zombie films (beginning with
Night of the Living Dead
) which is probably the first taste anyone of my generation had of the amazing zombie movie! And one of the funny things is, the creatures in this film were not referred to as "zombies," and were not associated with voodoo the way zombies in
White Zombie
and some of the earlier zombie films were. Yet this movie gave birth to the zombie movie genre as we know it today.
With several sequels and remakes,
Night of the Living Dead
has inspired numerous filmmakers and makeup artists for generations, and has been included in the Library of Congress's National Film Registry.
Image source: IMDB