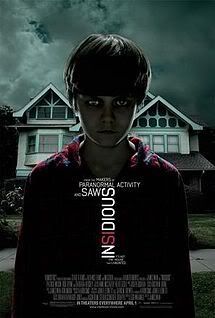 Since I'm all about Patrick Wilson right now, I'm going to include
Insidious
. I initially held off on seeing this because of the PG-13 rating, but my son went to see it in the theater and said he thought I would love it. Then come to find out it was written by Leigh Whannell (who also has a role in the movie) and directed by James Wan, the talent behind the
Saw
franchise? Well, that was all I needed to know and I was sold.
Despite it's PG-13 rating (or maybe
because
of it), it was actually quite scary at times. It didn't rely on gore or overt violence, but WAS tense, and made good use of score, loud noises, and suddenly-appearing creepy apparitions. And while I've said before that gore has its place, I do like being able to be scared without it.