Wes Craven's
Scream
is what got me excited about slasher flicks again. A bit of back story: After giving birth to my children in 1992 and 1994, I didn't really "get out" for a few years, so I didn't really get to see many movies in theaters around that time. I also stayed pretty exhausted trying to keep up with them, so I didn't have much time for movies at home, either. But when I first started seeing the trailers for this movie during my favorite television shows (no doubt "Melrose Place" and "ER" at the time), I immediately got excited about it. It didn't hurt that it had Rose McGowan, Drew Barrymore, Henry Winkler, Matthew Lillard, and Skeet Ulrich, either.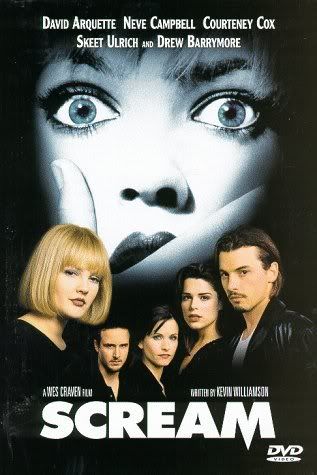 Whatever happened to Skeet Ulrich, anyway? I always thought he should have had a much bigger career after
Scream
.
This movie wasn't anything that I hadn't really already seen before (none of them are), but it reminded me just how much I really had missed movies in general; especially these types of movies.
Even the tongue-in-cheek ones.
In fact, there were so many good tongue-in-cheek moments and memorable quotes (my favorite? "Movies don't create psychos. Movies make psychos more creative!") in this film. I even enjoyed all the sequels, and loved the soundtracks to 2 and 3. Especially the significantly heavier
Scream 3: The Album
.
Next year,
Scream 4
will be released, and I am pretty excited about that even though looking through the cast of characters and soundtrack selections makes me feel like quite the old geezer! I've only heard of two bands on the soundtrack. WTF?
But yeah. This one is always fun to watch around this time of year.
Image source: Netflix