....like I always knew it would.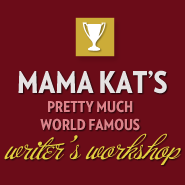 I figured my brand new blog was as good a place as any to start participating again in
Mama Kat's Writer's Workshop
.
One of the prompts this week was
"Tell us about your song."
I'm not really sure in which context this should be, but since I love music, I just HAD to pick this one. And? I don't really have a song that I feel is necessarily "about" me, or that I could have written myself. So many songs speak to me for so many different reasons. And some songs don't speak for me as a whole, but bits and pieces of them stand out.
For instance, I'm currently all about the line
"Life gets hard and then it gets good
Like I always knew it would"
from
Social Distortion
's "California (Hustle and Flow). I love this song for the guitars, and overall sound. I love to get up and move around to it! But I mostly like it because there is one specific part that I can totally relate to - a huge part of my life has been very hard for the past few years, but it's getting good. Through it all, I have always known that I was destined for something better, and that things would change, and for the better. Every time I hear this, it's like just a small little bit of reaffirmation. I am so ready for life to get good!
For more of Mama Kat's Writer's Workshop, head over
here
.