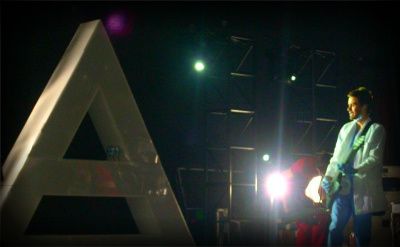 It's that time of year again where I should have already written and published a post "reflecting" on the past year, but the closest I got before now was a
recap of 2011's shows over at The Music Mamas
. (PLEASE go over and have a look. And leave a comment. And tell your friends? Pretty please?)
I almost typed out that this year has been a year just like any other, with the same highs and lows that come with the passage of any other year - but that just wouldn't be accurate.
Truth is, it was pretty eventful. We started the year out with my youngest son having to go in for ACL and meniscus reconstruction surgery. Then a week or so after that, those of us here in the southeastern US got our beautiful "snowpocalypse". School was out for a full week, and this will probably be the only time during my children's school years (as one graduates this spring, and the other next year) that they'll be out of school for snow. And, while it was a huge inconvenience, it was also a lot of fun, and I'm glad they got to have some snow days. I loved getting snow days when I was in school!
In late March, my youngest son got very sick, developed myopericarditis, and had to spend some time in a children's hospital in Birmingham. It was very scary, even though it was mainly for observation and we've thankfully had no issues since.
In April, the southeast - Alabama in particular, was ravaged by a series of catastrophic and deadly tornadoes in what was the worst tornado outbreak in recent history. May, June, and July were pretty quiet, but August saw me facing quite the life-changer. Fortunately, it was one I saw coming from a mile away, so I wasn't completely caught off guard.
Also in August, I became the parent of a high school senior. And a high school junior. They've been making wonderful grades and making me really proud! This Christmas was the last one, as far as I know, with both of my sons still living at home.
There have been lots of endings, new beginnings, and it's been pretty bittersweet all around. I can't really complain about 2011, though. I saw many good friends, good movies, good concerts, and had many good times. I lost 30 pounds, and gained some self-respect.
Not bad.
But 2012? I need to make it even better.
Image Source: Jonathan Tyler - Sound Check Mama; Mark Hoppus, Dave Grohl, MCR - Laura