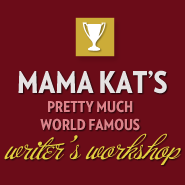 ...or so says a line from the lyrics of
Semisonic
's late-90s alt-college-rock tribute to closing time at bars, but hey....it fits here, too. A new year for me means a renewed sense of hope, purpose, adventure, change, and possibilities. After a year of change and the beginning of a significant end....that line definitely rings true. One of the writing prompts for
Mama Kat's Writer's Workshop
- the first of the new year - was
"...what are your New Year's Resolutions for 2012 and/or how did 2011's resolutions turn out?"
Well...resolution is a pretty strong word, and one that seems to doom me to almost immediate failure should I throw it out into the universe, so I think goals would be more appropriate for this post. And over the past year, I set several goals in motion and managed to make good on most of them. It was a good base to start with for this year, as well, because I think that this year,
I can do better.
I would like to continue losing weight and getting fit.
I would like to continue discovering new music, re-discovering old favorites, and to be able to see as much live music as possible.
I would like to read more, write more, blog more, and network more.
I would like to travel more.
I would like to spend more time with friends.
I would like to maybe, just maybe, finish some of the rehab/repurpose projects I've had set aside for a while now.
I would still like to find full time employment to go with the part time employment I already have.
I would like to develop patience.
I would like to hone my ability to weather changes.
I would like to spend more time with family, as the first part of this year is the last my oldest son will spend living here at home. He's off to college in the fall!
What are
your
goals and resolutions for the coming year? Be sure to leave a comment and/or play along over at
Mama Kat's Writer's Workshop
!