I took another unintentional hiatus for a week or two there. Maybe more. Who's keeping track, though? I am just glad to pop in for another post. I didn't mean to abandon the blog or any readers OR neglect my own reading, but so much has been going on here lately, as I prepare to close one chapter of my life and begin a new one.
So what all has been happening since I last posted? Well....lots of thrifting. I have so many pretties and goodies to take and post pics of, and I've not gotten around to it yet. Thrifting has been my saving grace for many years now - just like retail therapy, only cheaper and with way cooler stuff (in my opinion). Keeping up with family and friends. Lots and lots going on with them, too. This has been an amazing year thus far in that almost everyone I know has faced some pretty difficult times, and I see them all rising to the challenges and overcoming the obstacles. I need to get back to that myself, and have been shown a multitude of inspirations.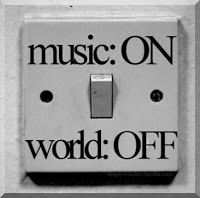 Of course, it all comes back to the music - those combinations of words and sounds that inspire, encourage, and keep us going. Or just offer us an escape. I'll be sharing a few of those this week for
4Ms
/Music Monday:
This one's been on my mind so much. I'm normally not a lyrics person, but this one just just about fits me to a tee right now.
Fighter - Christina Aguilera
I've been hearing this one a LOT lately, and couldn't believe it was Shinedown. It's so romantic - probably the ONE type of song I don't need to be listening to at this point in my life, but what the heck. It's one of my current favorites and so pretty.
I'll Follow You - Shinedown
And now, to lighten the mood, this is the most hilarious spoof video I've seen in quite some time - my friend
Spank
had it posted on her Facebook wall and I've been waiting for the perfect opportunity to share it. Now is the time! If you've never seen it, you are in for a real treat. I now give you....
Look at this Instagram - CollegeHumor
Okay. What a bummer. They disabled embedding, but if you've got a few minutes,
you NEED to check it out
; it's hilarious! Because we all know instagrammers who do all that stuff. And that guy makes me giggle uncontrollably!
Happy week! I am so glad to have tomorrow off. There is lots and lots of stuff to do, but I can still stay up late and get caught up on my latest guilty pleasure, Hart of Dixie. Yup.